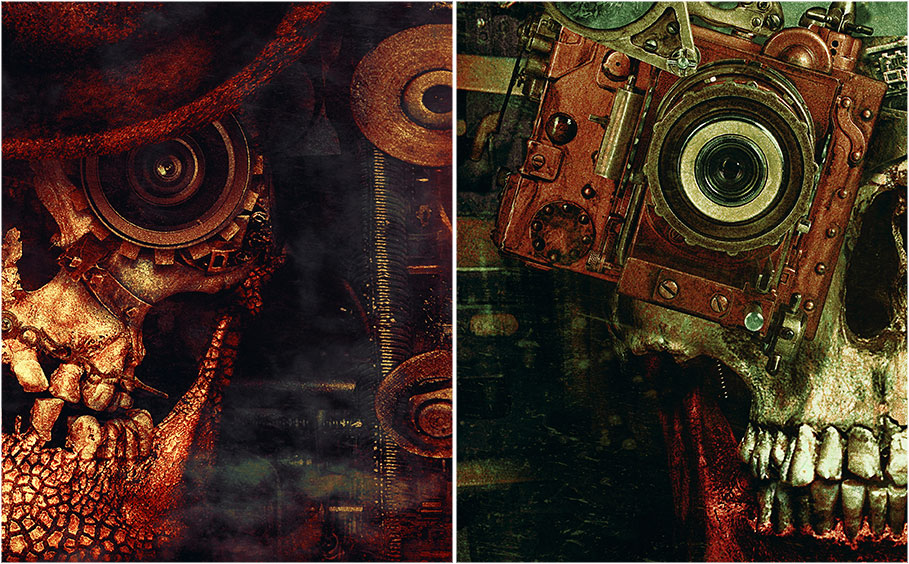 These two fine gents will be released to coincide with this years FLUX Exhibition at the Chelsea College of Art where they will be making their debut. An impressive collection of other Deadmansdust work will also be on display so don't miss it.
Print info.
Kingdom and Brunel are lovely characters and real gents who appreciates the finer things in life. Kingdom and Brunel  are a follow up to the ever popular Steampunk infused Isambard. Supplied as a hand stamped and signed limited edition canvas on board with a high gloss resin finish, edition of only 25 copies.
Exhibition Info
Summer FLUX at The Chelsea College of Art 12th – 16th July
The Cookhouse Gallery, The Triangle Space and Outdoor installation in the Parade Ground (facing Tate Britain)
FLUX Exhibition is a groundbreaking and new kind of art event – a collection of the most dynamic painters, performance artists and musicians, which presents an alternative way to encounter today's best new art.
FLUX has established itself as the platform for contemporary artists to be discovered and to be part of an exceptional, unconventional art event. Hosted by the Chelsea College of Art and curated by Lisa Gray founder of FLUX, this fourth much anticipated edition of FLUX brings 90 artists to the fore. Gray will be selecting the very best emerging talent for a five day interactive art event.
Gray says "FLUX is not a fair or a normal exhibition. FLUX is a unique experience for both artists and art lovers. Each artists work is considered so it does not compete with other work but stands alone and shines in its own light. The support we have gathered since the first exhibition has cemented our place in the contemporary art world and allowed us to continue to be creative."
FLUX comes alive with musical guests and performance art installations, which complement the work and bring a new experimental approach to the exhibition.
The show represents a rare opportunity to gain direct access to a diverse group of gifted artists, on the path to being the big names of tomorrow. Showcasing new talents in a collaborative, curated show, FLUX celebrates dynamic emerging artists on the precipice of wider accolade and fame.
We have been featured in publications such as Time Out, Aesthetica, Fad Magazine, Galleries, Glamour Mag, and many more.
Get your Free Tickets Here: Link
Related Blogposts